Nowadays, musculoskeletal ultrasound has become a necessary and very useful tool for the diagnosis and prognosis of sports injuries, its use is increasingly established in the world of sports and has multiple advantages over other modalities.
It is fast, cheap and, in addition, it allows interaction with the patient, which has led to an exponential growth in their employment.
Therefore, in the field of Sports Medicine and Traumatology, in the event of an injury it is necessary to reach an exact diagnosis in the shortest possible time, to be able to establish an immediate treatment, which allows to shorten the recovery. This is where ultrasound is a basic tool for the study of all injuries, which limit the athlete's performance so much. In addition, ultrasound allows a rigorous and detailed evolutionary control to be carried out, assessing the day-to-day of the injury.
Among the many advantages that this diagnostic technique provides over other study techniques, especially in the assessment of tissues such as muscle, ligament and tendon, the following should be noted:
– It allows dynamic studies to be carried out, which accurately determine the diagnosis of small lesions, which may go unnoticed, when the structures remain at rest. In the case of complex joint unions such as the scapulo-humeral joint, from dynamic maneuvers, the existence of entrapment syndromes can be demonstrated.
– It allows the carrying out of repeated studies that facilitate an evolutionary control in the day-to-day of the injured athlete. As there are no contraindications, this rapid technique allows a comparative examination with the healthy side to determine the extent and characteristics of the lesion area.
– At present, the use of compact equipment facilitates the use of this technique in the field, thanks to the ease of application, safety, its non-radiant character and its accessibility.
– New technological advances such as three-dimensional study, elastography, high-resolution Doppler or Doppler quantification, are making it possible to complete the examination of the musculoskeletal lesion so that small lesions are now easily diagnosed.
On the other hand, some drawbacks of ultrasound must be considered in comparison with other diagnostic techniques, such as the limited independence of the explorer, interobservative variability, poor visualization of the bone, and intra-articular structures as well as that of certain muscles.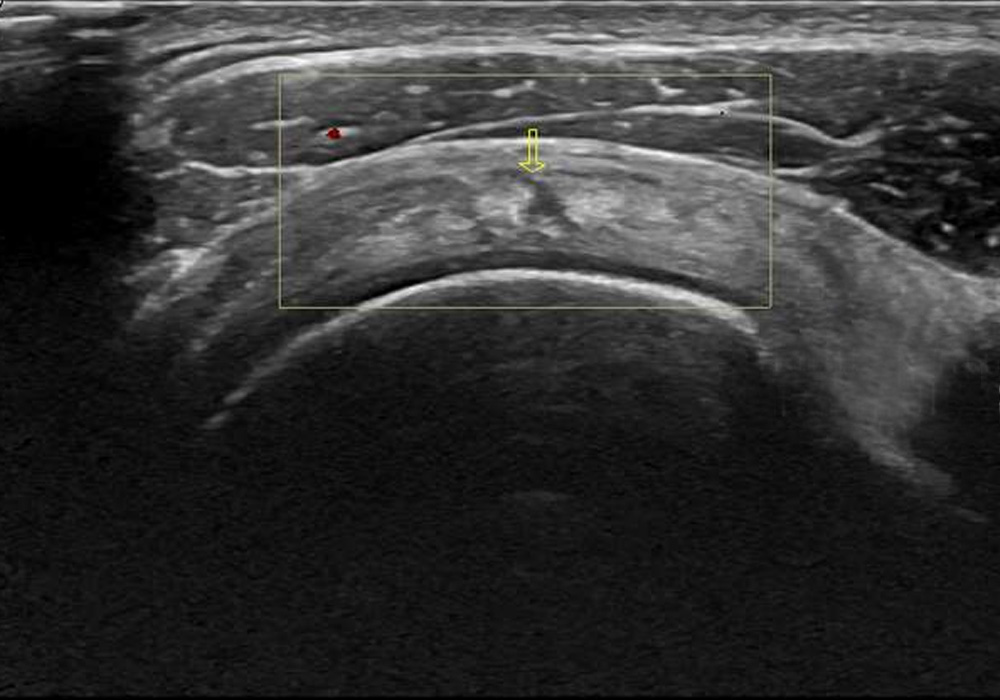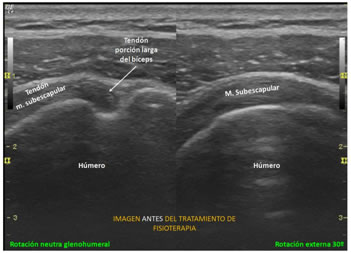 Usefulness of Ultrasound in injuries that appear as a result of sports activity :
Epicondylitis or "tennis elbow"
Epitrocleitis or "golfer's elbow"
Painful shoulder from rotator cuff tendon injuries, bursitis, etc.
Biceps brachii tendinitis
Wrist sprain
Finger tendonitis
Painful hip from injury to the adductors or pubalgia
Bruising on the thigh from contusions or ruptured rectum
Hamstring muscle rupture with posterior thigh pain
Knee sprain with involvement of lateral ligaments
Quadriceps or patellar tendinopathy ("jumper's knee")
"Goose foot" tendinopathy (pain on the inside of the knee)
Tennis leg
Ankle sprains or strains
Achilles tendon tendinopathies
Plantar fasciitis or pain in the sole of the foot
Tears or strains of the rectus abdominis