Laser Therapy
What are the effects of using lasers?
The use of laser in physiotherapy, if it has these characteristics, increases metabolic activity by acting on the mitochondria, which can reduce healing times. In addition, it produces an increase in vasodilation, improves lymphatic drainage, reduces inflammation and increases the pain threshold. Photomechanical stimulation inhibits pain sensation and provides immediate relief.
Toral points out that laser therapy "has no absolute contraindications." Laser therapy is painless, and although it increases the temperature of the treated area, it is not invasive. The laser acts on the cell membrane generating a photochemical effect, which facilitates tissue regeneration, pain reduction and remodeling of inflammatory effects.
All these characteristics allow to obtain a series of effects that were not achieved with the low-power laser.
The biostimulant effect accelerates the production of fibroblasts with the consequent production of collagen in order to rebalance the extracellular matrix and to remodel the tissues. This is only achieved by long pulse continuous or pulsed emission.
The anti-inflammatory effect is the result of biological stimulation of the tissues, which triggers vasodilation.
Stimulation also produces a neoangiogenesis phenomenon that has an anti- edema effect .
High-powered laser therapy also has relaxation effects by modulating the release of oxygen.
Finally, the analgesic effect allows to reduce pain without collateral effects, optimizing the interaction with the peripheral nervous system.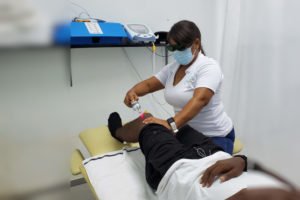 What can laser be used for in physiotherapy?
With these functionalities, the laser covers a wide spectrum of applications.
In traumatology it is used for post-trauma recovery , because it allows the possibility of modeling the emission according to the desired physiological effect.
In pain therapy, because it is capable of generating a rapid decrease in joint and muscle pain through the stochastic emission patented by Mectronic, which acts on the peripheral nervous system.
In the prevention of accidents, because if they undergo laser therapy treatments before the sporting event, the musculoskeletal structures will be vascularized and perfectly oxygenated, reducing the risk of micro-injuries.
To speed up recovery , because the multi-modal emission allows the therapy to be personalized according to the need.
To quickly eliminate edema, because it allows you to customize the therapy according to the somatic characteristics of the patient and their pathological state.
To heal muscle injuries, because it allows the metabolic activation of all microbiological processes that return the intracellular and extracellular balance to the cell, in order to rapidly rebuild muscle tissue.
To treat acute pathologies, because it modulates, in the water phase of the pathology, the inflammatory effects through a stimulating action of the deep tissues.
To treat tendinopathies, because it exerts a biostimulant action and rebalances the correct balance of muscle forces through deep and complete oxygenation of the muscle fasciae.
As a physiological accelerator , because it allows the correct biostimulant therapy to be applied by defining the energy dose and the mode of emission depending on the pathological condition of the patient.
Most common applications
Deep tissue penetration with power up to 12 W in continuous mode
Pulsating mode for immediate pain relief
Painful shoulder
Hip arthrosis
Epicondylitis
Carpal tunnel syndrome
Patellar tendonitis
Lumbar pain
Achilles tendonitis
Back pain